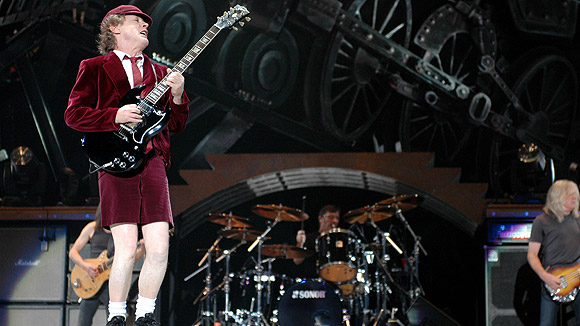 Segundo o site de metereologia ClimaTempo, o show da banda australiana AC/DC, amanhã (27) no estádio do Morumbi, em São Paulo, pode acontecer sob chuva. A possibilidade de chuva entre o final da tarde e o início da madrugada é de 90%.

Ainda de acordo com o instituto, a temperatura deve oscilar entre 19ºC e 27ºC, com umidade relativa variando entre 55% e 86%.

Provável Set List:
Após algumas mudanças no setlist da "Black Ice World Tour", o AC/DC se apresentou em Houston, Estados Unidos, no dia 8 de novembro, com as seguintes músicas.

Rock N Roll Train
Hell Ain't A Bad Place To Be
Back In Black
Big Jack
Dirty Deeds Done Dirt Cheap
Shot Down In Flames
Thunderstruck
Black Ice
The Jack
Hells Bells
Shoot To Thrill
War Machine
Dog Eat Dog
You Shook Me All Night Long
TNT
Whole Lotta Rosie
Let There Be Rock
Highway To Hell
For Those About To Rock (We Salute You)

.
Comentários: Em alguns momentos, dependendo do calor, a chuva até que cai bem. Dá pra refrescar a galera, contanto que não comprometa o sistema de som e imagem.
.